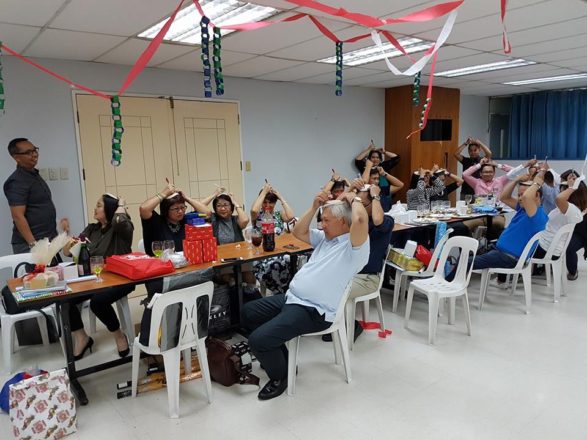 The Holiday spirit continued in January as UPMG held its Christmas Party last January 6 at the Philippine Daily Inquirer.  It was a fun-filled afternoon till evening activity as everyone was treated to exciting games, sumptuous food and plenty of raffle prizes.
UPMG President opened up the program with a warm up game that really thrilled all the participants. It was a simple game yet has deep meaning of selflessness in giving what you have something very apt for the season.
"I enjoyed seeing everyone so happy. The party was filled with so much love, joy and unity. At UPMG, it doesn't matter if we do the Christmas Party in December or January, it's still the same amount of fun and excitement when each one of us gets together. "say Barbie Atienza, UPMG President.
The program was a big hit from start to finish with a witty host Badette Cunanan bringing the house in great laughter with her jokes and funny "punch lines". Department of Tourism Assistant Secretary Ricky Alegre took time out of his busy schedule to celebrate with the officers and members of UPMG.
No one left the place empty-handed as raffle prizes are meant for all.  In the end, more than the gifts and prizes, everyone brought home very special gifts – love and unity in UPMG which will always be in one's heart Christmas and beyond.