UPMG HOLDS PRINT MEDIA CONGRESS 2019 AT THE MANILA HOTEL
The United Print Media Group (UPMG), the association the Philippines' biggest and most respected newspaper companies will hold its Print Media Congress (PrintCon) on Wednesday, October 9, 2019 at the Rigodon Hall of Manila Hotel.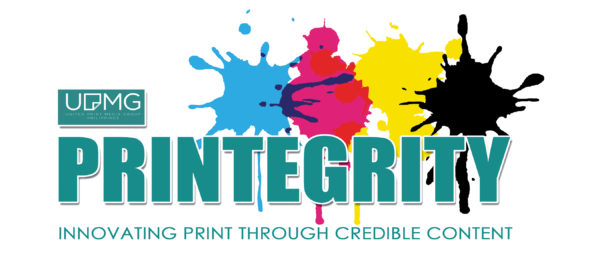 Dubbed "Printegrity," the 2019 Print Media Congress gathers some of the biggest personalities in the print industry under one venue for an exchange of ideas and solutions to important issues facing the print media industry today. It hinged on the theme "Innovating Print through Credible Content" to highlight the importance of integrity, credibility and reliability in the delivery of news and information in this medium.
"Even in this digital age, it is of prime importance that our news content be dependable regardless of what platform we have it," according to Barbie Atienza, UPMG president. He added that almost all their members have embraced the digital medium and yet maintain the discipline and the values of responsible journalism.  UPMG vice-president and congress chairman Jay Sarmiento also said that the congress will stress the need to strategize towards exploring new business models, new ways of doing things in order to respond effectively to the changing demands of time.
The whole day conference will feature as one of the keynote speakers Pichai Chuensuksawadi, consultant for ASEAN MEDIA Forum and former editor-in-chief of Bangkok Post who will present Innovation in News Media: Transformation and Business Models.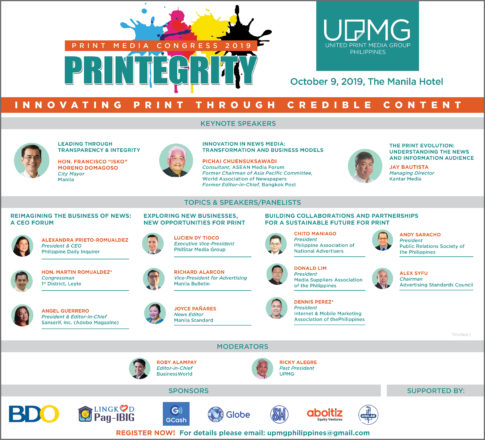 Welcoming Print Media Congress delegates to the City of Manila is no less than the Mayor of Manila Hon. Francisco "Isko" Domagoso Moreno who will talk about Leading Through Transparency and Integrity.
This year's Print Media Congress will also be highlighted by the presentation of a qualitative study commissioned by UPMG on news and information consumption and how these can bring about new opportunities for print by another keynote speaker, Kantar Media Head Jay Bautista.
Alexandra Prieto-Romualdez, president & CEO of Philippine Daily Inquirer together with Hon. Martin Romualdez, Congressman of the 1st District of Leyte, and Angel Guerrero, president and editor-in-chief of Adobo Magazine, will lead the CEO Forum on How to Reimagine the Business of News. This session will be moderated by BusinessWorld editor-in-chief Roby Alampay.
This will be followed by a panel discussion on Exploring New Businesses, New Opportunities for Print to be led by Lucien Dy Tioco, executive vice-president of Philstar Media Group together with Richard Alarcon, vice-president for advertising of Manila Bulletin and Joyce Panares, news editor of Manila Standard.
For the final panel discussion, the topic will be Building Collaborations and Partnerships for a Sustainable Future for Print with Chito Maniago, president of the Philippine Association of National Advertisers, Andy Saracho, president of Public Relations Society of the Philippines, Dennis Perez, president of the Internet and Mobile Marketing Association of the Philippines, Donald Lim, president of the Media Specialists Association of the Philippines and Alex Syfu, chairman of the Advertising Standards Council of the Philippines with past UPMG president Ricky Alegre as moderator.
Both Atienza and Sarmiento hope to come up with congress resolutions and ratifications at the end of the congress to future-proof the industry. They believe that despite the challenges, this moment also presents an incredible opportunity for the industry to reinvent itself and innovate using it strongest asset: its ability to craft compelling, thought-provoking, credible content.s
This year's Print Media Congress is supported by Banco de Oro, Pag-Ibig Fund, GCash, Globe Telecom, SM, Aboitiz Equity Ventures, United Laboratories and Toyota Motor Philippines.
For details, please call the UPMG Secretariat at 403-7787 or 0915-2130236, email [email protected] or send a message to the UPMG Facebook page.