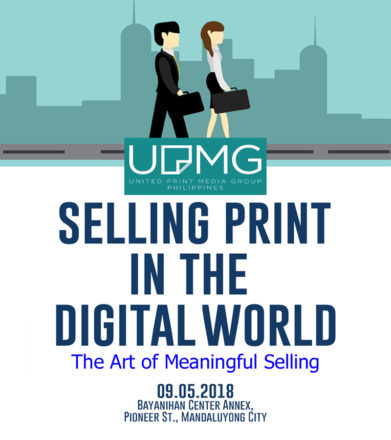 United Print Media Group conducted the Salesmanship Training Program with its theme, "Selling Print in the Digital World",   last September 5, 2018 at the Bayanihan Annex, Mandaluyong city.
The 123 attendees were mostly from the Sales and Marketing department of different member and non-member publications and companies around the Metro.
The seminar-training was filled by knowledge wonderfully shared by international Trainer Ricky De Vera who talked about how interactions and negotiations are made to achieve the art of meaningful selling; UNAHCO, Inc. AVP for Marketing Edwin Mapanao focused on keeping and sustaining client relations;  PhilSTAR Media Group Vice President Lucien Dy Tioco shared his credible experiences on selling in print medium in the age of digital; and Master and Personal Brand Strategist Julia Robillos  enlightened the audience  using smart personal branding which leads to business success.
After the program, raffle prizes were drawn which included Water Filter, Washing Machine, and Air conditioner.  Some of the minor awards given were gift certificates, pens, mugs, tumblers, coffees, umbrellas, stuff toys, adapters, caps, shirts and journals.
The event was sponsored by PCSO, PAGCor, PDI, Globe, FNI, and SM Supermalls and was organized by the UPMG Ways & Means Committee- Annie Grefal, Lulu Fajardo, Hazel Cabuay, Anna Bonifacio and Mercedes Pascual, headed by Vivienne Motomal.