 United Print & Multimedia Group, Inc. (UPMG, Inc.) is a progressive organization of print media and publication companies in the Philippines. Its thrust is towards promoting the continuous development and pursuit of excellence in the Philippine print media industry.
Be part of our growing community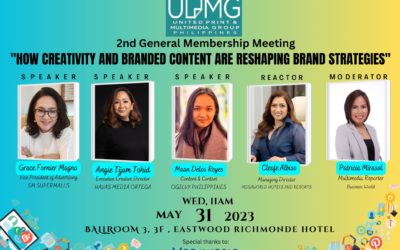 The 2nd UPMG General Membership Meeting for this year's held last May 31, 2023 at the Eastwood Richmonde Hotel. The event's sponsored by Megaworld Hotels & Resorts. Arrival / Registration UPMG President Barbie Atienza Nico Ivan Velasquez (Group...
Vision
UPMG is the premier organization of publication companies strongly united in ensuring sustainability and relevance of the print media.
Mission
To undertake various programs through active participation of members. To help the organization become an effective representative and lead caretaker of the print media industry and strengthen relations with various stakeholders.